HiGame PC – Mini Workstation for Gamers & Creators
Feel tired of your clunky desktop PC taking up half the desk space? Your old tower PC is probably not powerful enough for serious gaming and content creation. We can help! Chuwi HiGame is a 2 liter ultra compact mini PC, which packs the most powerful new 8th gen Intel Core i5/i7 processor with discrete Radeon RX Vega M graphics. We've integrated the CPU, dedicated GPU and 4GB HBM2 together using the latest Intel advanced technologies. Because of this, Chuwi HiGame will be able to deliver great performance for high-end gaming, rich content creation and immersive home entertainment.
Chuwi HiGame will be the ultimate desktop PC replacement. We're sure of it.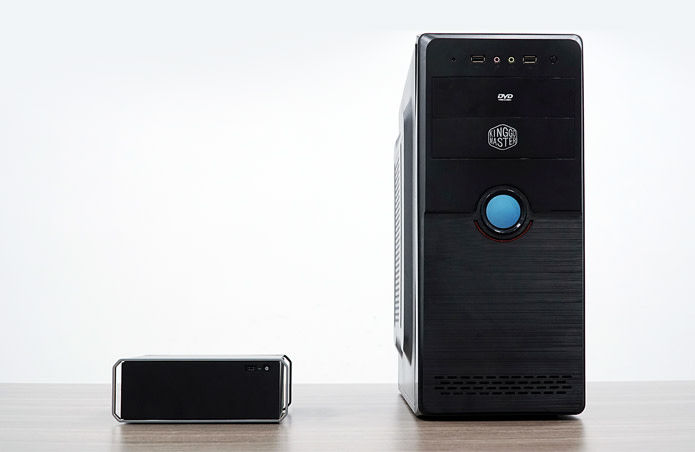 As an official strategic partner of Intel and Microsoft, Chuwi has a reputation of producing great tablet PCs, 2-in-1 convertibles and laptops together with some of the biggest names in technology. In January of this year at CES, Intel updated their product line with the new 8th gen Intel Core Kaby Lake-G processors w/ custom Radeon graphics. It's the first time Intel and rival AMD have created a product together – but what caught our attention the most is the unprecedented design and extreme performance. We knew that it will be the best choice for creating smaller and more powerful mini PC for gaming and content creation. So we got together with Intel China and we decided to develop one and we named it Chuwi HiGame!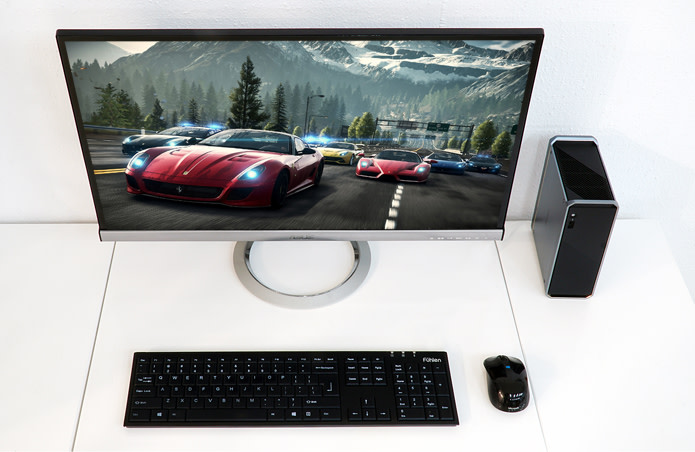 Chuwi HiGame boasts a meticulously crafted design that measures at just 173*158*73mm (that's around 2 liters) — it's almost 15X smaller than a conventional desktop tower PC. With 8GB DDR4 memory and 128GB/256GB SSD storage, you can handle multi-tasking, intense, professional software more quickly and smoothly. Need more RAM or storage? We've thought of that too – extra slots for you to add your own RAM or storage (Dual channel DDR4, M.2 SSD and 2.5″ HDD slots). Plus, we've included built-in Thunderbolt 3, USB 3.0, Gigabit Ethernet, HDMI 2.0, and DisplayPort 1.3, the compact Chuwi HiGame comes bursting with all kinds of ports for different types of peripherals — without being confined to the space inside the enclosure.
Meet HiGame, the most powerful mini PC for game enthusiasts and advanced content creators alike. Equipped with the latest 8th gen Intel Core i5/i7 CPU with discrete Radeon RX Vega M graphics bundled in a single package, it's ready for the latest and greatest AAA titles & professional creating software. By shaving away every unneeded millimeter, our engineers have created an extremely compact design for HiGame. Experience extraordinary performance in a small form factor for an amazing price.
Video description: 
Real Game Testing Video:
About HiGame PC:
Featuring excellent performance for gaming enthusiasts, content creators and home entertainment lovers, you already can see that the Chuwi HiGame is the most compact and powerful mini PC. It will deliver all the power you need to replace full size tower desktop.
As a well-known tablet brand in China, Chuwi has already designed and developed a range of excellent tablet / laptop products which have garnered great appreciation from critics and customers alike. With extensive industry experience and a powerful supply chain, we are very confident that we can minimize almost all the risks and challenges about this project, to all the backers.
At present, we have finished the early concept design and T0 stage prototype of Chuwi HiGame. The reason we are crowdfunding for this project is to allow us to raise the huge funds for research & development and making sure we can get the best price for the best components on the market. We promise that all the funds we raised here will be used for Chuwi HiGame's research & development and mass production. All other Chuwi products are funded entirely independently.
With your great support and our continuous efforts, we believe that we will be able to deliver the most amazing mini-PC you've ever seen to all backers on time: Chuwi HiGame.
Introduction for Chuwi  Band:
Established in 2004 and located in Shenzhen of China, Chuwi has built a reputation for creating great tablet / laptop devices in our home country over the past fourteen years. Now our product line has coveredtablet PCs, 2-in-1 convertibles, laptops, mini PCs, fast charging accessories andother digital products.
We have already sold our products to more than 100 countries around the world through our self-operated Amazon stores, Aliexpress stores and many other local distributors / retailers. With high-quality, competitive prices and excellent customer service, our products always sell very well.
Products from the Chuwi brand have been reported and reviewed by a lot of the world's best-known tech media, including: CNET, ZDnet, PCWorld, PCAdvisor, DigitalTrends, GottaBeMobile, TechRadar, WindowsCentral, AnandTech, TechRepublic, Forbes, IBTimes and XDA-Developers. Moreover, we have established long-term and stable cooperation relationships with Intel, Microsoft, Hampoo and Goodix.
Trust & Safety: 
Indiegogo's mission is to empower people to unite around ideas that matter to them and together make those ideas come to life. Providing a safe, secure, and trusted platform is an essential part of achieving that mission. We want to provide our backers with the information that they need in order to feel confident supporting innovative products as they make their way all the way from concept to market. It's a global collaboration built on transparency, trust, and a passion for those "a-ha!" moments.
Detailed Information Is on Indiegogo
Tags: Intel China, HiGame PC, Mini Workstation, Gamers & Creators, Indiegogo, Technology, Game, Best games online, china games, Chuwi 
Comments
comments